Testimonials
Here's what a few of our customers have had to say about us.
Have a testimonial of your own to share?
Send a Testimonial
Paul K
Summer 2018 - Oshkosh, WI
Traveled to Lac Seul Lodge as a group of 4 for our annual fishing trip and loved every minute of it. The cabins and facilities are top notch with a great layout and setup. We used 2 of the camp boats all week and they were perfect and spacious. The entire staff was incredible and they truly make it feel like home. After staying at other lodges in past years, LSL is a shining star and will definitely become our go-to spot. Already counting down the days until next year's trip.
Paul Pausc
Fall 2015-18 - Palmyra, WI
I first visited Lac Seul Lodge with my 2 boys the fall of 2015. We will never forget the experience we had that trip!!! The staff is amazing, you can tell that there's care given to the accommodations, the scenery never gets old, & of course the fishing is spectacular. That first trip has "hooked" me and I plan on going back every chance I get. Thank you to everyone at Lac Seul Lodge for making each and every stay memorable! Tight lines
Wayne Flewelling
last 5 years - KS
THE best camp in Canada. THE best walleye fishing and big northers abound. Rod and Lorita are the very best hosts anyone can have. Of course, you can't count our their staff either. they also have the best cabins we have ever stayed in. If you are planning a trip don't look any further than Lac Seul Lodge.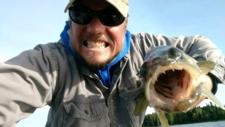 Paul Pausch
Fall 2015, 2017 - Palmyra, WI
Can't say enough about LSL! I've been been coming to Canada for 15+yrs and have stayed at numerous other lodges. LSL is hands down the best lodge I've experienced. From the clean, quaint cabins to the helpful & friendly staff. Everyone seems to have one goal in-mind, provide the guests with the best possible experience that they can. It's pretty hard to have a bad time at LSL when you catch 100+ walleye's in one day! If you can find the fish you can expect sore arms from all the action. Great lodge, great people, great fishing = Great Memories Thanks Rod & Lorita!
Robert Barr
fallof 17 and 18 - Logansport Ind.
I have gone to Canada over 35 times since 1976. This location is the best ever. Great host, great accommodations. the deck hands are very helpful no matter what time of day yu need them I would highly recommend Lac Seul Lodge with a 5 star rating.
Leroy Seiler
Spring 2018 - Medicine Lodge, Ks
I have been going to Canada To fish for 25 years. This will be my eighth year at Lac Seul Lodge. I have three weeks planned for 2018. You just can't say enough good things about Rod, Lorita, and their staff. They are there to make your fishing experience memorable and pleasant. Improvements at the camp have been made every year since they took over. The camp boats have been upgraded and wood on the docks replaced. They continue to improve and update the cabins with new appliances and furniture to make your stay in camp relaxing after a great day of fishing on the lake.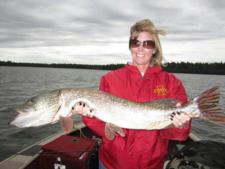 Amy Healey and Rod Jones
25+ years - Ames, Iowa
We cannot say enough great things about Lac Seul Lodge. The cabins are spotless and have everything you need. The fishing is amazing. The fish cleaning facilities are well maintained. There are updates every year and everything always looks great! The staff is so friendly and helpful. We love hearing their stories at the end of our day. Everyone is very accommodating and will help with whatever you need! We love it there and hope to come for many more years.
Doug Smart
Since 1999 - Abilene, Knasas
Tremendous fishing, scenery, and service. This camp is run the way a camp should be, with annual updates of all facilities and new boats and motors. The staff us excellent and always ready to help in any way possible.
Clarence N
February 2018 - Duluth, MN
We have been staying at Lac Seul Lodge for about 15 years. Was very well run by original owner and new owners have maintained AND improved the resort. Their staff are outstanding, friendly, fun and very knowledgeable about boats and motors. CANNOT say enough good things about Lorita,Rod,and their staff of Newfies. Like family to us. Cabins and grounds constantly being upgraded.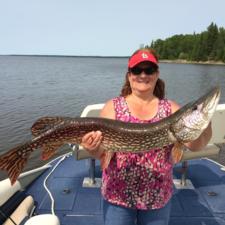 Peggy Havard
Summer 2017 - Centerville Iowa
My husband and I spent a week at Lac Seul Lodge last summer. Everything about the camp was amazing! The cabins, camp and all equipment was very clean and well maintained. I can't even describe how awesome the fishing was! My goal was to catch a 40 inches northern Pike. I caught the 40 inch on my first day of fishing. We caught so many large fish it was unbelievable. It was our best year we have ever had fishing in Canada. We absolutely loved our stay at Lac Seul lodge and can't wait to come back in July.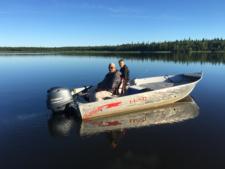 Biff Madsen
July 2016, 2017 - Ear Falls
Best Canadian fishing experience I've had. Great service, friendly and helpful staff, knowledgeable fishing guides, and outstanding location! The quality of the cabins are second to none.!The fishing in this area is amazing. I highly recommend Lac Seul Lodge for family trips or a fishing excursion with buddies. Rod and Lorita treat you like family and they really care!
Craig Miska
June 2017 - Minnesota
My family and I have been coming to Lac Seul Lodge for many years. We stay at the Sunlight Outpost. The fishing opportunities are endless at this location and your only a short boat ride from Lac Seul; which in my opinion is a true trophy walleye lake. Rod and Lorita have done a great job as owners of the camp. The camp staff is very hard working, friendly and always willing to help when needed. I highly recommend Lac Seul Lodge for your Canadian fishing adventure.
Lynn G. Ford
2015, 2016, 2017, 2018 - Council Bluffs, Iowa
Without question, Rod and Lorita run one of the finest camps in Canada. Their focus is on the satisfaction of their guests in every way. Lodging and equipment are up to date, comfortable, and spotless. Fishing in their area of Lac Seul is remarkable. My party has caught numerous 25+ inch walleye and my brother-in-law caught a 5lb.+ smallmouth. Simply the best!!!
Dave Havard
July 2017 - Centerville Ia
2017 was our first of hopefully many years enjoying Lac Seul Lodge! Rod and Lorita and the whole staff were very friendly and more than accommodating and even helped us out when we had some problems with our personal boat! Our cottage was spotless with everything we needed! The entire camp was very well kept and there was always some one there for anything we needed like gas or bait! We can't wait for our return trip this summer and we have some our good friends coming up with us also and hopefully it will work out so we can bring our family up in the near future! It was also our best year of fishing in many trips to Canada!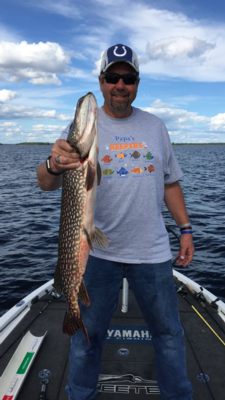 Jim Milligan
June to August over multiple years. - Indianapolis
I have been going there for over 30 years. I have stayed in each of the outpost, but mostly in the main camp. The friendly staff there has been great to work with. They are there to ensure your vacation is the best, Cabins are clean and well maintained. The docks have bumper guards to protect your boat and have electrical hookups to charge your batteries and fuel for your boat. They have a nice fish house to clean your fish with freezers right there. The ramp is a little steep and sort of hard to put in and out, but once you are in you have some of the best fishing on the planet. My family and friends have many many memories thanks to the staff at Lac Seul Lodge.
Merritt Stigen
2018 - Hudson, Wisconsin
I have been bringing my son-in-law plus others up for the second week at the Sunlight Outpost for every year since Rod and Lorita purchased the Lac Seul Lodge Resort. The fishing , scenery , wildlife and the great service and hospitality provided by Rod ,Lorita and their staff is top notch. They continue to make improvements in the Lodge and Outposts, making every visit special in every way.
Dale Wills
We stayed at the camp for 2 weeks this year and had a great time. The fishing this year was exceptional with a lot of big walleye and perch being caught. The accommodations and service at the camp are first class which is the reason we continue to recommend this place to our friends.
Dale Wills
Henry McKitterick
The time my sons and I spent at the Sunlight outpost cabin was something we will always remember. No phones, no television, no interuptions, just outstanding fishing, watching the wildlife, and catching up on family news. One son lives in Utah, one in Colorado, and I live in South Dakota so getting together for a week was almost impossible until we went to the outpost cabin. We plan to make this a yearly event because of your facilities, your hospitality, and of course the great fishing. Thanks for the wonderful experience and see you next July.
Henry McKitterick